The individuals who comprise the Class of 2023 are diverse in age, background, accomplishments and future plans. They range in age from 17 years old (with six graduating with an associate degree before receiving a high school diploma) to 66 years young. Eighteen are military veterans. Thirty are scholar-athletes who excelled in the classroom and on the field, including pitching a perfect game. It's truly a family affair for some – multiple siblings, four sets of twins, and a parent-and-child are among this year's graduates.
Post-graduate plans include transferring to one of the many four-year colleges and universities in the state, including Rutgers, Montclair State, NJIT, The College of New Jersey, William Paterson and Rowan. Two are Ivy League-bound. Others are starting careers in a wide variety of fields, such as dental hygiene, engineering, gaming and animation, graphic design, hospitality, information technology, law enforcement, nursing, radiography, and social work, as well as many others.
Graduation is rarely, if ever, an individual accomplishment. It requires a helping hand from family members, friends, teachers, mentors, colleagues, and more.
That message resounded throughout the ceremony, beginning with Middlesex College President Mark McCormick, who spoke of Commencement as the time the College – faculty, staff, trustees, and administrators – looks forward to all year long.
"There were likely many times that you thought you might never make it, but you did. As we are all aware, nothing of any consequence comes solely from our own individual efforts. And that is especially true of something as monumental as earning a college degree. When any of us achieves something of greatness, it is almost always because others around us have supported us, encouraged us, and lifted us up. You have undoubtedly benefitted from the guidance, encouragement, and cheerleading of others," McCormick told graduates.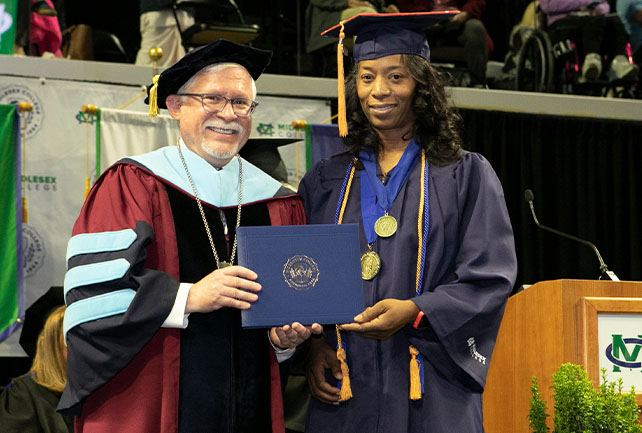 Zakiyia Forbes, who majored in Modern Language-Liberal Arts, was the valedictorian and delivered the class welcome.
After graduating from Middlesex College this past January with a 4.0 GPA, she went straight to Columbia University on a full scholarship. She just completed her first semester at Columbia, maintaining a straight "A" average there, all while working fulltime and raising her children.
The mother of two teens shared her experience of struggling with a "learning difference" for most of her life.
"I can't count how many times I tried to attend college, just to soar, and then fail. I thought I was stupid, and I called myself that — and worse — for a long time," she revealed.
A guidance counselor Forbes met while working as a security guard for a local public-school system changed everything for her, she explained.
"With her help, I was able to get tested, which led to a diagnosis. I wasn't stupid, I was neurodivergent. The way my brain is wired is a little different than what is considered typical. The way I process information doesn't always follow what has been made the norm. That diagnosis, followed by her insistence that I apply to Middlesex College changed my life."
Forbes concluded her speech with these parting words to her fellow classmates: "Be kind to yourselves. No one is designed to do everything on their own. I thank Medina and Noble, my children, and my best friend Gladys for teaching me that and the entire Middlesex community for proving them right over and over again."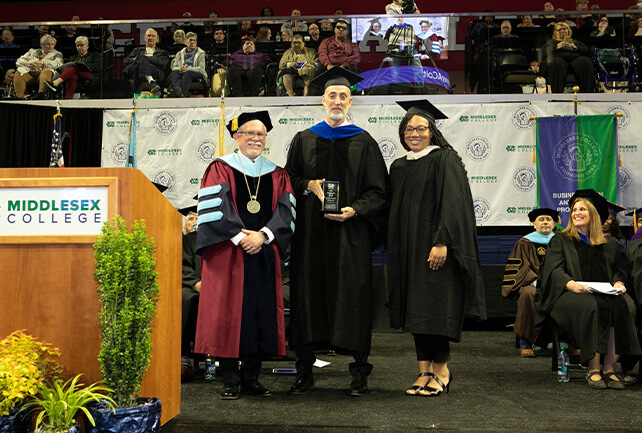 The ceremony also featured remarks by 2023 Alumnus of the Year Eric Carney, who serves as President and CEO of Monmouth Medical Center in Long Branch and Monmouth Medical Center Southern Campus in Lakewood.
A member of the Class of 1993, Carney expressed his gratitude toward the College.
"I am truly humbled to be recognized by an organization that has played such an important role in my life," he said.
In his remarks to the graduating class, Carney spoke about the importance of recognizing one's unlimited potential and becoming a lifelong learner.
"A strong belief in your abilities is critical to establishing a 'yes' mindset," he said.
"By saying 'yes,' you have also taken the crucial step to become a life-long learner. This will ensure you stay curious and discover your passions as they evolve. Keep exploring new educational experiences, but be mindful… learning can happen in academic settings or through personal experiences."
The value of a Middlesex College degree in realizing their potential was the hallmark of Middlesex County Commissioner Director Ronald G. Rios' remarks to the Class of 2023.
"While it may look like a mere piece of paper, do not be fooled. Your degree is tangible proof not only of the academic and real-world knowledge you have gained and will take with you on the next steps of your journey, but of your own motivation and commitment to achieving your goals. It is also a symbol of the support you've received from your family, friends, professors, and the entire Middlesex College community," said Rios.
Gary Taffet, Vice Chair of the College Board of Trustees, congratulated the graduates for reaching this milestone day and recognized the perseverance it took to conquer challenges that many would consider insurmountable.
"Some have dealt with food insecurity, while relying on public transportation to get to class. There are also inspiring stories of students who were impacted by the justice system, such as former residents of the County's juvenile detention center. Beyond what you'd consider the 'traditional' college students are parents of young children, single parents, students caring for an ill loved one and English language learners," he noted.
"We celebrate all these students here today. Despite all the obstacles, I laud your unwavering commitment. Class of 2023: you did it!"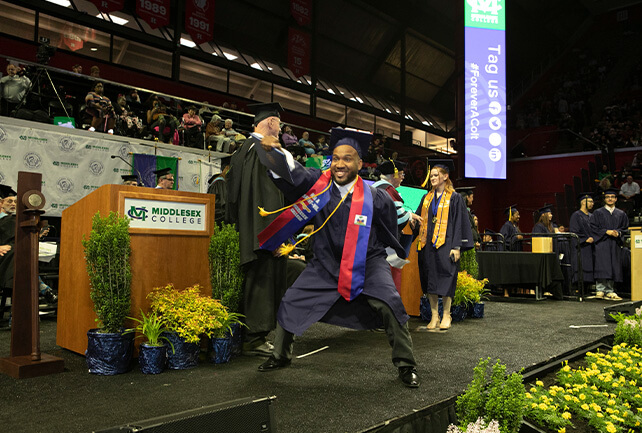 A week earlier, the College honored Chambers Award winners. The award, named for the College's founding president, Frank Chambers, recognizes those graduates who have achieved the highest-grade point average. The 2023 award recipients are: Fady Abdelhamid, Emily Cabrera, Kalpesh Chavan, Zakiyia Forbes, Jessica Hawksby, Kezia Heriadi, Lori Kim, Kimberly McGraw, Jonathan Marko, Maryluz Michel, Angela Moschella, Alyssa Perito, Megan Pietrocola, Efrain Raices, Selvan Ramsamy, Mercedes Fernandez Reyes, Bianca Roman, Ethan Rok, Varun Sabbineni, Kelly Huertas Sandoval, Valeria Huertas Sandoval, Kajal Shah, Amanda Such, Angelo Tolentino, Umer Toor, and Rhiannon Wille.
On an environmental note, the graduates wore eco-friendly caps and gowns made entirely from recycled plastic bottles. Named GreenWeaver and manufactured by Oak Hall, the fabric is made from spun molten plastic pellets, with each gown requiring an average of 25 bottles. So, approximately 20,000 bottles were saved from landfills and the oceans by this year's ceremony. The tradition began at last year's commencement, which marked the return to an in-person ceremony.
For more information about the Class of 2023, including photos and stories, visit Commencement.