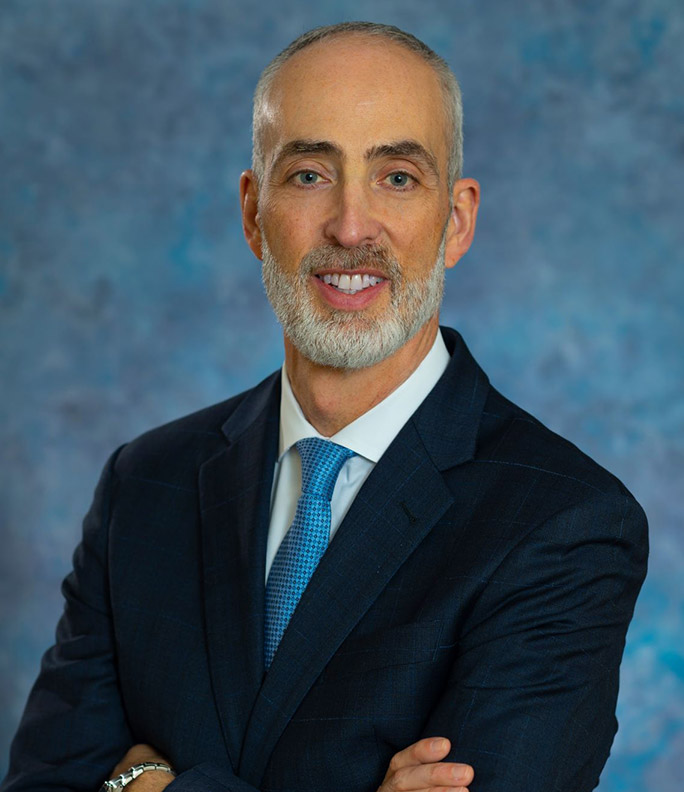 "I came to this College with no understanding of what I really wanted to do with my life. And what I learned during my time here was not only what I wanted to do, but also just how to be a student. So, it really laid the foundation," Eric Carney told an audience of Middlesex College students when he visited campus in February as the featured guest of the Middlesex College Foundation Alumni Speaker Series.
Carney began his career at RWJBarnabas Health as a respiratory therapist. In 1997, he was promoted to administrative director of respiratory care at Clara Maass Medical Center in Belleville.
During his visit to campus as guest speaker, he spoke about the importance of healthcare as a "special calling."
"People come to us at the absolute most vulnerable points in their lives. It is not an understatement to say that the most important thing in providing clinical care is to provide a meaningful connection with the people you serve," he shared.
Carney would go on to serve in numerous positions of increasing responsibility across the health system, quickly moving into top leadership roles at academic medical centers, including Cooperman Barnabas Medical Center, Livingston, and Monmouth Medical Center, Long Branch, both part of RWJBarnabas Health (RWJBH), the leading academic health system in New Jersey.
He joined Monmouth Medical Center in 2016 as Chief Operating Officer (COO), responsible for the oversight of all clinical and non-clinical departments. He was promoted to the hospital's top leadership role as President and CEO in February of 2019, and was additionally appointed President and CEO of Monmouth Medical Center Southern Campus in September of 2020, granting him executive responsibility for the daily operations of both the Long Branch and Lakewood campuses.
During his tenure, the hospital built the Anne Vogel Family Care and Wellness Center, a state-of-the-art outpatient center in Eatontown, featuring the innovative LiveWell Center, which offers free wellness programming for community members of all ages. The center's Dorothea and Jon Bon Jovi Nutrition Education Programming is dedicated to helping community members on their healthy eating journey. The location also provides patients in the region access to the outstanding pediatric rehabilitation services of Children's Specialized Hospital, also an RWJBH facility.
Under Carney's leadership, Monmouth Medical Center was named a Top Teaching Hospital by the Leapfrog Group, widely acknowledged as one of the most competitive honors American hospitals can receive. The hospital is known for a culture of excellence and teamwork and for its commitment to providing the highest level of safe care. It is the region's only hospital to earn 16 consecutive "A" scores for safety, quality and efficiency from the Leapfrog Group, and for the second consecutive year is one of 414 of the more than 6,000 hospitals in the U.S. named to Newsweek's Global Best Hospitals' list. Additionally, the hospital is among just 148 U.S. hospitals named to Money's inaugural list of the Best Hospitals in America.
Becoming CEO of a major medical center was never a position he sought, Carney revealed. But as his career evolved, so too did his passions.
"As CEO, my most important job is to support the people who work in my hospitals. So, my passion really became supporting staff," he said.
"Throughout my career I've been given opportunities and I've never turned them down. If you want to be a leader someday, you need to have the ability, motivation and opportunity. If that opportunity remains zero, you never can be a leader. You always have to take the opportunity to lead. If you're someone who wants to advance and do more, don't say no."
An active community volunteer, Carney dedicates his time and counsel serving on several boards. He is a member of the Board of Directors of Monmouth Family Health Center, a federally qualified health center in Long Branch, serving as chair of the finance committee. He also serves as chair of the operating board for Encompass Heath, an acute rehabilitation hospital in Tinton Falls. In addition to serving on the operating board of Big Brothers Big Sisters of Coastal and Northern New Jersey, he actively volunteers as a mentor in their Workplace Mentoring Program, providing guidance to mentees on goals, future planning and career readiness.
A passionate advocate of life-long learning, Carney earned numerous degrees during the course of his expansive educational journey. He earned an Associate of Arts Degree from Middlesex College, before going on to earn an Associate of Science Degree in Respiratory Care at Fairleigh Dickinson University. He earned a Bachelor's of Management Science Degree from Kean University and a Master's of Science Degree in Health Care Management from Johns Hopkins University Cary Business School.
Carney will deliver his remarks to the Class of 2023 at Commencement on May 18, 2023 at Jersey Mike's Arena at the Rutgers Athletic Center in Piscataway, New Jersey. For more information about the 2023 Commencement Ceremony, visit middlesexcollege.edu/commencement.
Every year during commencement, the Alumni Association Board of Trustees, in collaboration with Middlesex College and Middlesex College Foundation, presents the Alumnus/a of the Year Award to recognize an outstanding alumnus/a for individual achievements, contributions to their field or profession, service to their community, and demonstrated loyalty to Middlesex College.