County Commissioner Director Ronald G. Rios, who was selected by his peers to serve another term as its director, shared the Board's vision for building a brighter future for the County in the coming year, focusing on key areas such as infrastructure, education, and quality of life.
"Everything we do supports our vision for a brighter future for everyone who lives, works, and plays here in Middlesex County," said Rios. "The County envisions a brighter future that grants better access to innovative spaces and cutting-edge healthcare treatment for those within and around Middlesex County through key investments in transformative community projects."
Among those key investments is addition of new facilities designed to transform the Middlesex College campus into a space for the entire County community and as a regional attraction. Under the CIO Strategic Investment Plan unveiled last November, new academic, athletic, and performing arts facilities will be constructed on the College's Edison campus.
The meeting also included the swearing-in ceremonies of three County Commissioners and the County Sheriff. Recently re-elected County Commissioners Claribel A. Azcona-Barber, Charles Kenny, and Chanelle Scott McCullum, as well as Sheriff Mildred S. Scott, all took the oath of office during the January 5 meeting.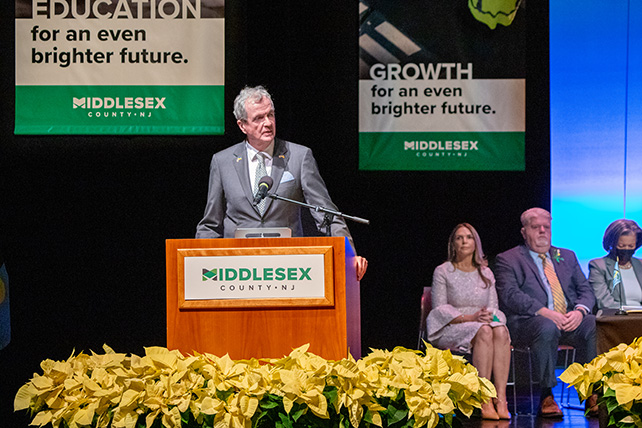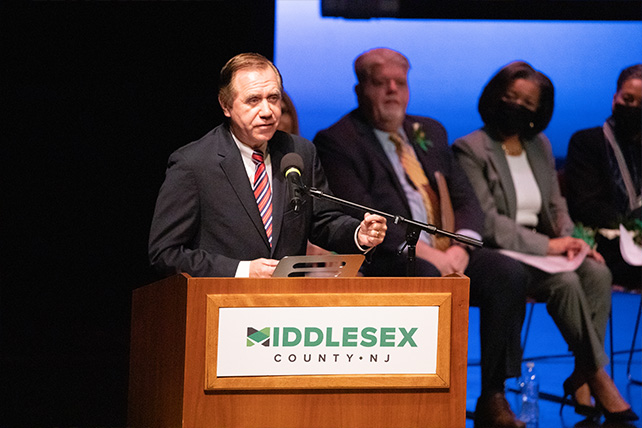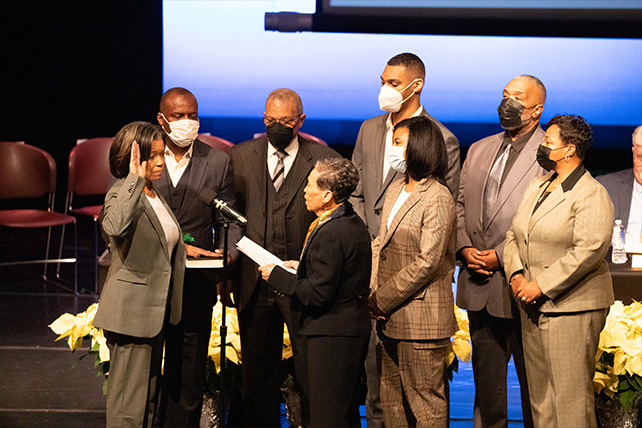 Governor Phil Murphy and New Jersey Assembly Speaker Craig Coughlin were in attendance to deliver their remarks, which underscored their resounding support for the County at the State-level.
"I'm proud to revisit Middlesex College's flourishing campus to congratulate the County's re-elected Commissioners, who represent the very best of our state's local leadership," said Murphy.
Coughlin offered his congratulations to Director Rios and Deputy Director Shanti Narra on a successful reorganization, saying that under their leadership, "Middlesex County has become a statewide leader in Education, Transportation, and Innovation."
Middlesex County also received messages of support from its federal representatives – Senator Cory Booker, Senator Robert Menendez, Congressman Frank Pallone, Jr., and Congresswoman Bonnie Watson Coleman – all of whom joined the meeting virtually.
Read the full story: Board of County Commissioners shares vision for 2023 during annual Reorganization Meeting