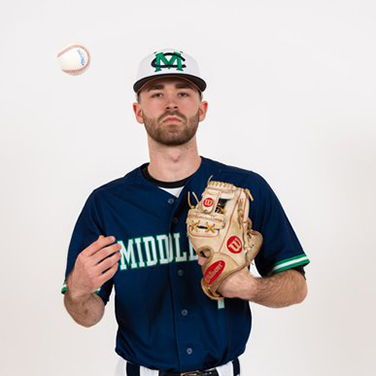 Nick Diaz made history. Then, he just didn't want to get tackled.
The Middlesex College pitcher made history on opening day throwing what is believed to be the first perfect game in Colts baseball history against Orange Community College.
A perfect game means that none of the opposing batters reached base on a hit, a walk or on an error.
Diaz, 21, finished the game with 14 strikeouts and his accomplishment triggered a mad celebration of Colts rushing out of the dugout.
"I just wanted to stay on my feet," said Diaz of the on-field party. "I would say it's probably the best individual accomplishment I have ever had on the baseball field."
Diaz grew up in Hamilton and graduated from Hamilton West High School in 2020. He was always a baseball player and became a pitcher exclusively when he got to high school. He was poised for a good senior year in high school when COVID forced the season to be canceled.
After high school, Diaz spent a year at Rowan University and then pitched for a year at Rutgers-Camden. Some friends at Middlesex College encouraged him to join the Colts. Diaz enrolled and is closing in on his degree in liberal arts.
"I love it here," said Diaz. "I feel like I have been embraced by the team and my teachers have been helpful. I really enjoy the flexibility with the courses and the way they are run."
On the baseball field, Diaz added to his baseball repertoire when teammate Ryan Pozo showed him how to throw a slider. The game against Orange Community College was the first time he ever used that pitch, and he guessed he got about 10 of his strikeouts using it.
Even though someone in the dugout broke the baseball code and mentioned "perfect game," (Diaz declined to name who it was) the right-hander kept his focus. He said third baseman Jordan Brown was encouraging him the whole game and catcher Connor Luckie called every pitch.
It's hard to start a season better than this, but Diaz said the Colts still have an eye on winning the Region title this spring. But for now, a baseball signed by the team is going into the Middlesex College trophy case marking the first perfect game in school history.