The exhibit is based on a major exhibition currently on display at the Smithsonian's National Museum of American History, "Museum on Main Street," which is designed to provoke thought and spark a conversation around:
Who has the right to vote?
What are the freedoms and responsibilities of citizens?
Whose voices will be heard?
How do you participate as a citizen?
How do we encourage more people to participate in our democracy?
The College was among six community colleges selected by the New Jersey Council for the Humanities (NJCH) to be hosts for a traveling exhibit of the Smithsonian Institution's Museum on Main Street program.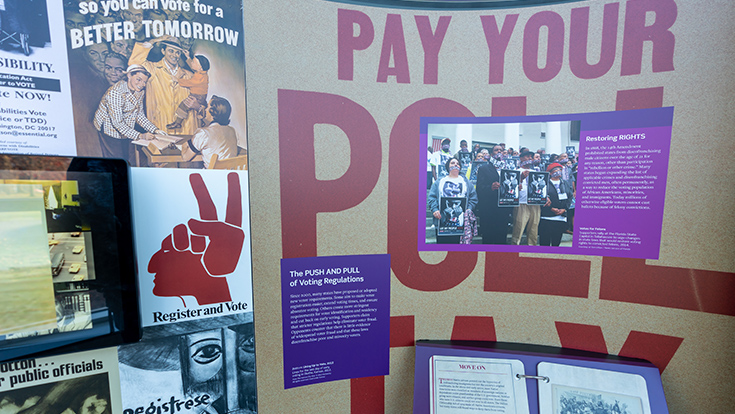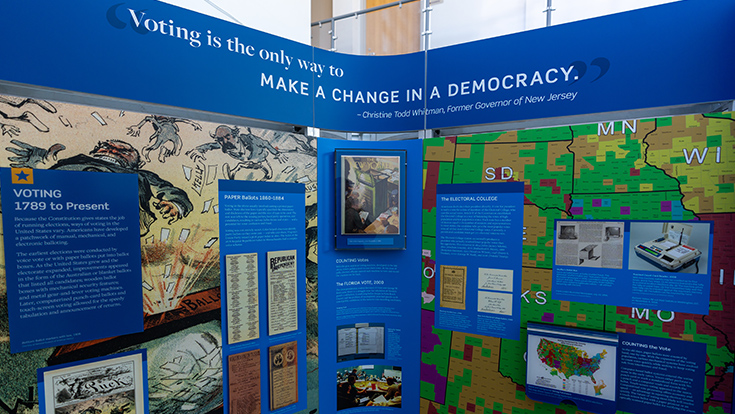 The College's Museum on Main Street adaptation has many of the same dynamic features, including historical and contemporary photos, educational and archival video, engaging multimedia interactives with short games and additional footage, photos, and information, and historical objects like campaign souvenirs, voter memorabilia, and protest material.
"The College is excited to host this informative and timely exhibit. It is suitable for all ages and we welcome individuals and groups to come to our campus to see the exhibit. We are happy to accommodate group visits outside of the normal hours of operation," said Theresa Orosz, Acting Dean of Liberal Arts.
The exhibit is free and open to the public, and will be on display from December 1 through January 6 in the Studio Theatre Gallery, Monday through Friday from 11:00 a.m. to 4:00 p.m. (excluding holidays), at the College's Edison campus.
For more information, visit njhumanities.org/programs/museum-on-main-street.
To arrange for group tours, email liberalarts@middlesexcc.edu.
Voices and Votes: Democracy in America
December 1, 2022 to January 6, 2023 (excluding holidays)
Monday through Friday from 11:00 a.m. to 4:00 p.m.
Middlesex College
Studio Theater Gallery
2600 Woodbridge Avenue
Edison, NJ 08818