The award is the highest honor bestowed by Middlesex College and is awarded to an individual who embodies the citizenship, leadership and humanity of Paige D. L'Hommedieu, the founding board chair of the College.
"Congressman Pallone has been a passionate advocate for Middlesex County and its residents throughout his long and distinguished career as a member of the U.S. House of Representatives," said College President Mark McCormick. "A champion of education, he has helped advance the College's mission to expand access to higher education. His latest effort in Congress demonstrates this ongoing support. As a member of the Appropriations Subcommittee on Labor, Health and Human Services, and Education spending bill for Fiscal Year 2023, Congressman Pallone secured $1 million for the College to improve retention and increase graduation rates for adult learners and assist Middlesex County residents who have been incarcerated access educational resources."
Born in Long Branch, Pallone holds a B.A. from Middlebury College, an M.A. from The Fletcher School of Law and Diplomacy at Tufts University, and a J.D. from Rutgers School of Law–Camden. A member of the Democratic Party, Pallone has served as the U.S. representative for New Jersey's 6th congressional district since 1988. Before being elected to the House, he held local and state offices, as a member of the Long Branch city council (1982 to 1988) and as a member of the New Jersey Senate (1984 to 1988).
Congressman Pallone's membership to a long list of congressional caucuses speaks to his 30+ years of service in our nation's capital. Notably, he serves as co-chair of the Congressional Caucus on Armenian Issues and the Congressional Coastal Caucus. He is also the co-founder of the Congressional Caucus on India and Indian Americans and Congressional Caucus on Sri Lanka.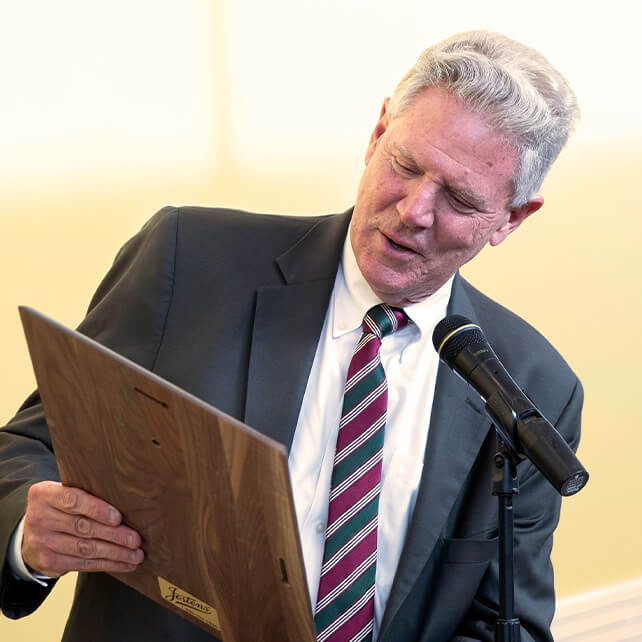 Pallone currently chairs the House Energy and Commerce Committee, which deals with many issues involving healthcare, energy and the environment.
Most recently, Pallone was part of a select group invited to appear with President Joe Biden at the signing of the landmark Inflation Reduction Act, undoubtedly the biggest legislative step in combating climate change.
The law commits to reducing carbon emissions by roughly 40 percent by 2030 through a series of investments aimed at moving the country away from fossil fuels and toward clean energy sources, and putting the nation on track to avert the worst effects of climate change.
"For an institution of higher education focused on serving as the gateway to a better life for all residents, there is no greater champion and advocate in Washington than Congressman Pallone," said Mark Finkelstein, vice chair of the Middlesex College Board of Trustees.
Citing Pallone's continuous support for making college education affordable, including expanding and increasing Pell grants, Finkelstein thanked "Congressman Pallone for his steadfast support of higher education and Middlesex College and the students it serves on behalf of the College's Board of Trustees."
Middlesex County Commissioner Director Ronald G. Rios also spoke at the ceremony. He praised the congressman's three decades of legislative service and his impact on making Middlesex County a vibrant place to live, work and to do business in.
"Throughout his career in public service, Congressman Pallone has proven himself to be a dedicated advocate for the people of his congressional district – which includes Middlesex County. No matter the challenge, Congressman Pallone is always there to lend his support and champion the key initiatives that make a real difference in the health, education, finances, and overall quality of life of those of us in his district. Congressman Pallone works hard every day on behalf of his constituents, and we in Middlesex County are grateful for his support," said Rios.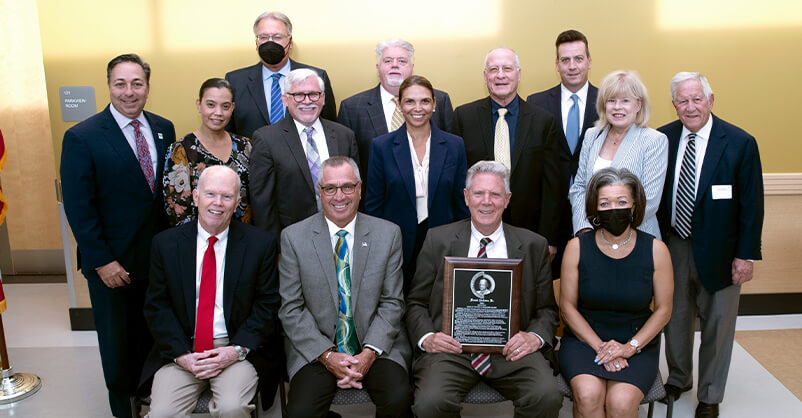 After receiving the award by Vice Chair Finkelstein, Pallone expressed his gratitude for the honor and thanked local officials for their contributions to the many legislative accomplishments for which he is credited.
"It's just wonderful to be here and be the recipient of this award. Everything that Ron and others have mentioned, they are all ideas that came from you – the county commissioners, the elected mayors, and council people in the various towns of Middlesex County. I appreciate the fact that you're giving me this award. Ron mentioned a lot of things that I did, but in every case, it's something that has been suggested by you," Pallone said.
College affordability was a focus of his remarks, particularly the cost of a four-year degree. On this topic, Pallone applauded Middlesex College for "trying to keep tuition low," and making it possible for students to continue their education at four-year institutions.