The formal announcement took place September 20, 2022 in Sayreville, New Jersey, at the groundbreaking of what will be the Arsenal Trade Center, a 1,077,776-square-foot industrial complex. Construction on the three-building project is scheduled to be completed in late 2023.
Trammell Crow's donation, made to the Middlesex College Foundation, the fundraising arm of the College, is in fact two distinct gifts totaling $100,000.
Fifty-thousand dollars is intended for scholarships for Middlesex College full-time students majoring in architecture and engineering, construction, supply chain, or logistics.
The other $50,000 is a workforce grant for students seeking certificate training in construction, supply chain, or logistics.
Funds for both the scholarship and the grant will be awarded over a four-year period to students with financial need.
Middlesex College representatives who attended the groundbreaking included Michelle Campbell, Vice President for Institutional Advancement; Lisa Kelly, Executive Director of the Middlesex College Foundation; and Joananne Coffaro, Executive Director of Workforce Development and Lifelong Learning.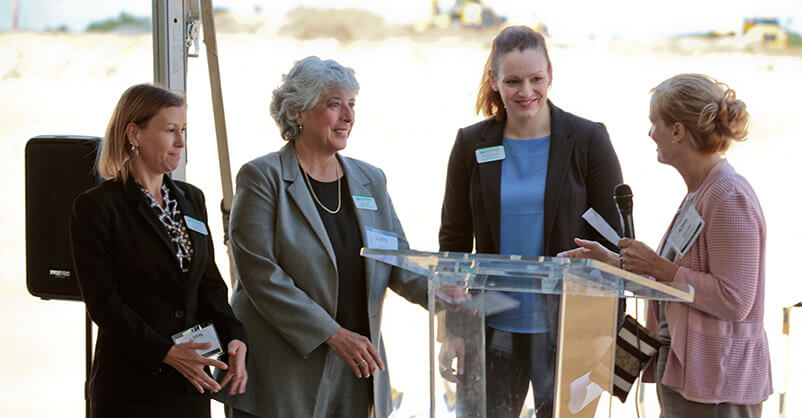 Campbell, who spoke at the event, thanked Trammell Crow and its partners for their investment in Middlesex College through the establishment of a new scholarship and a workforce grant.
"This investment is one of only three scholarships in our portfolio of over 135 scholarships that supports degree-seeking students as well as students enrolled in workforce training and certification programs," she noted.
With preference being given to students of color who have a minimum 2.5 GPA, Campbell also highlighted the broad social impact of the gift.
"This investment provides access to underrepresented and economically challenged individuals, many of whom would not be able to take that next step forward in their education or career without this support. And lastly, this gift focuses on the future and the growing community and industry needs of our county, our state, and our region. It will support residents seeking traditional degrees as well as individuals looking for a pathway to a better life through workforce training and industry-recognized credentials."